Philanthropy is a very personal decision. A professional advisor can help clients realize their charitable objectives by listening for charitable giving opportunities, explaining options, and suggesting solutions. Significant giving opportunities often arise when clients are making major business, personal, and financial decisions. Our staff can work with you and your client to recommend the best charitable solution.
Manage Your Clients' Giving
As a professional advisor, your clients count on you to guide them through the many options, tax benefits, and legalities related to their philanthropic giving. The Community Foundation of North Central Wisconsin offers a variety of resources to make your job easier while helping your clients achieve their personal, business, financial, and philanthropic goals.
We consider attorneys, accountants, financial planners, insurance agents, and other professionals who have relationships with donors to be our valued partners in charitable giving. This section of our site makes tools and information available to help you ensure that your clients receive the full benefit of their contributions while supporting the charities of their choice.
---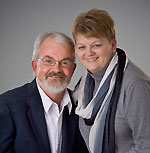 "Once we learned of the services that the Community Foundation had to offer, it made our decision to include it as a part of our estate plans easy. We've outlined our wishes to include scholarships and land preservation because education and the natural resources, which are a vital part of this community, are also important to us. We feel good knowing that commitment will continue after we're gone."
Kerry & Cheryl Brimmer
Weights and Measures Inspector / Teacher
Planned Giving Design Center www.pgdc.com
The PGDC is the world's largest community of planned giving professionals. Visitors to this free site will gain insight on many charitable giving issues through a searchable library of articles and forums to aid with tax and estate planning issues.
Wisconsin Philanthropy Network www.dfwonline.org
The Wisconsin Philanthropy Network is a professional membership association of grant makers located in Wisconsin. The Forum's mission is to advance philanthropy through membership, professional development, networking, collaboration and public policy and leadership.
Leave a Legacy Wisconsin www.lal-wi.org
LALW is a public awareness campaign designed to inspire people from all walks of life and all income levels to think beyond their lifespan when doing good works. Imagine how much good could be done if each one of us remembered a favorite charity or cause in our will or estate plan? The impact would be immeasurable.
National Center for Family Philanthropy www.ncfp.org
This nonprofit organization was founded to encourage families to create and sustain their philanthropic missions. Their Advisor's Role section contains information on the ways donors want their advisors to help in charitable giving as well as ideas for talking with clients about charitable giving.