Current Educational Opportunites
The Community Foundation offers various educational opportunities to strengthen our nonprofit community in north central Wisconsin.
Opportunities available to you include:
The Nonprofit Exchange
The Nonprofit Exchange is an opportunity for you to connect, form ideas, and work together with other nonprofit leaders from the area. We provide the platform, YOU provide the content! Sign up today for this quarterly event. All sessions will be held virtually.
Nonprofit Lunch & Learns
Nonprofit Lunch & Learns are a time designed for your organization to learn from various speakers in the field. Whether learning about financial stability, building a solid board of directors, or marketing your organization, the Community Foundation offers opportunities for you to build a strong organization.
Nonprofit Lunch & Learn
Best Practices and Self-Care During Challenging Times | Session 3
Tuesday, October 12, 2021
11:00 a.m. – 1:00 p.m.
Register here >
Talk with us today.
Our staff is here to help you and your nonprofit organization thrive within our community.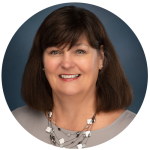 Sue Nelson
Program Officer |715.845.9555