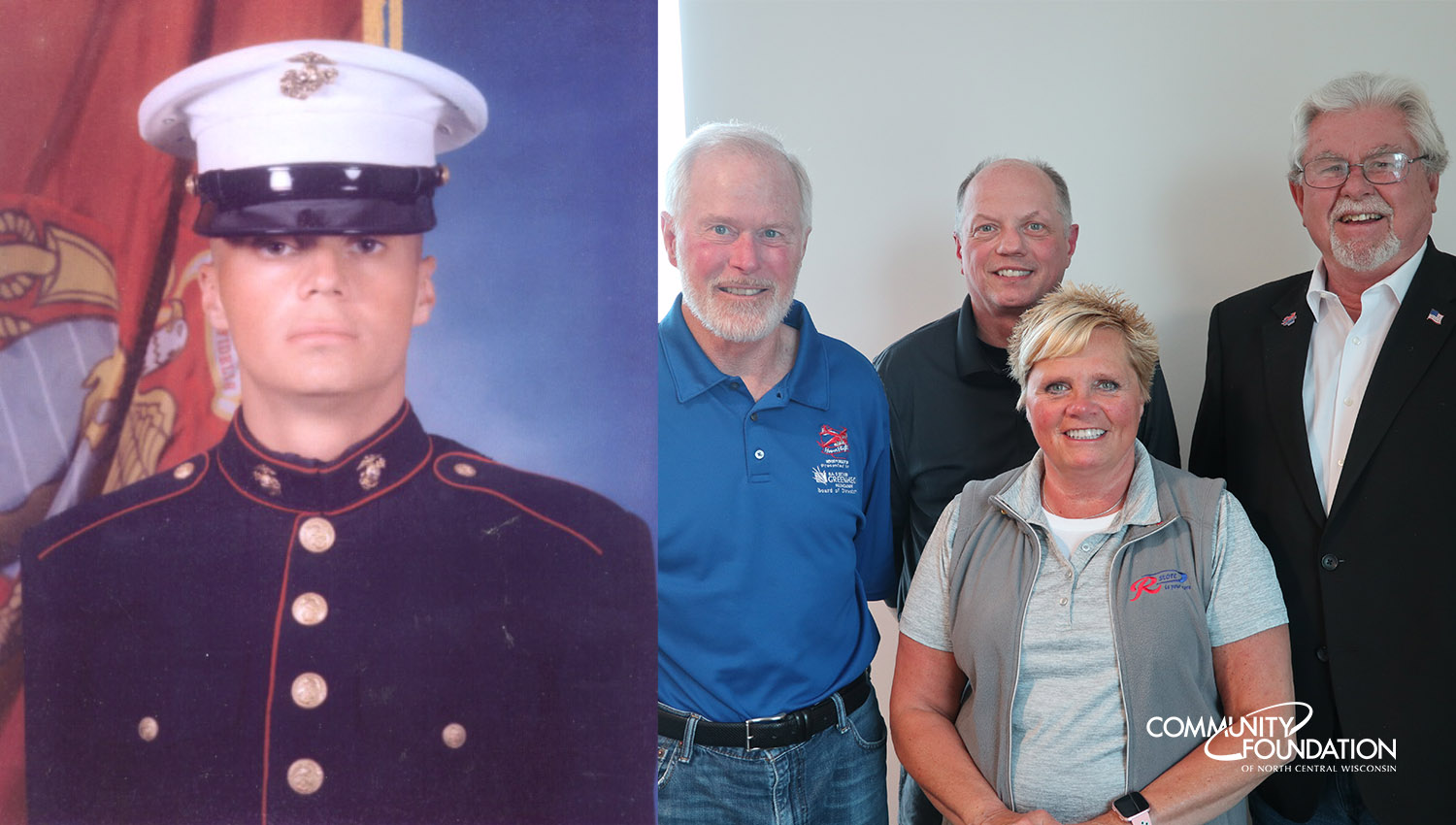 11 NOVEMBER 2020
The Scott Stasney Freedom Fund
Scott Stasney was born in 1982 and grew up in Wausau where he enjoyed an active childhood.  As a lanky six-foot teen, his frame was ideally suited for activities such as snowboarding, rollerblading, soccer, and biking.  A music lover, his quick wit and sense of humor entertained audiences as a DJ at various functions.  Scott had a personality that drew people to him – he had many friends and was well-liked by his peers.
After graduation from Wausau East High School in 2000, Scott enlisted in the U.S. Marine Corps.  The pain of two broken legs could not stop him from finishing Marine Boot Camp. His pride and determination to become a marine were stronger than the pain. Scott explained, "Pain is weakness leaving your body." Upon finishing boot camp, he said, "it was the biggest accomplishment of my life."
Scott served in the military for three years, including a stint as a .50 caliber gunner in the Transportation Support Group, running convoys of ammunition, food, water, and fuel to the front lines in Iraq. He was a dedicated soldier who loved his country and was determined to defend the American value of freedom.
Upon his return from Iraq, and at the age of 21, Scott was killed in an automobile accident in Fallbrook, California, along with two other Camp Pendleton marines.  He had planned to re-enlist in the Marines for another four years.  To this day, he is missed by his parents, David and Michelle, and a younger brother, Allen.
His family established the Scott Stasney Freedom Fund with the Community Foundation shortly after his death to honor his memory and to focus on the concept of the freedom that he so cherished and fiercely dedicated his life to preserving.  The Fund provides annual support to the Never Forgotten Honor Flight program, to assist with veteran's visits to Washington, DC.  His parents stated, "While Scott is no longer with us, his memory, and what he so cherished, to be preserved in our hearts – forever."
This Veterans Day, while we honor all veterans who have served our country, we have a special place in our hearts for Scott Stasney.
More News
In 2002, Paul and Patty David were searching for a way to create a memorial for their son, Thomas. [...]
The Community Foundation of North Central Wisconsin announced that nine charitable causes have received Community Enhancement Grants totaling $117,420 [...]
The 2021 Nonprofit Lunch & Learn series, facilitated by Linley Daly, will feature discussion on best-practices and self-care during [...]