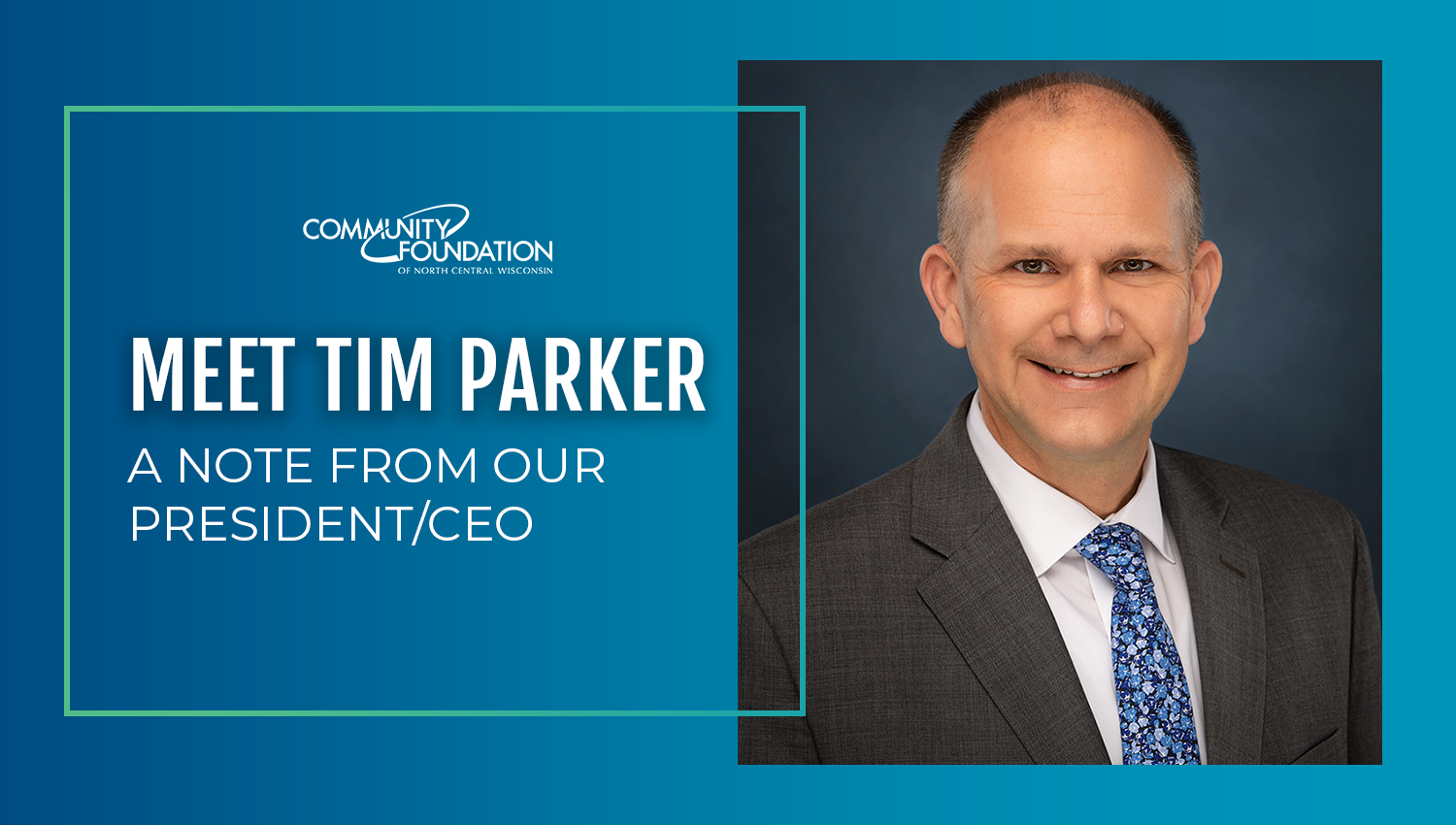 29 OCTOBER 2020
Get to Know Tim Parker, President/CEO
Friends of the Community Foundation,
I could not be more grateful to accept the position as President/CEO of this well-established and well-loved organization that consists of an extremely talented team and long history of dedicated donors and nonprofit partners. My goal for leading this organization is to build on the achievements of the past 33 years. The Community Foundation will not only maintain its high level of standards in philanthropy but will continue to expand upon our impact in north central Wisconsin.
I come to the Wausau area from Grand Rapids Michigan where I was the president of Michigan Capital Network, an investment organization committed to growing strong entrepreneurs and companies. My background as an engineer in the corporate world and then as an entrepreneur starting my own company, helped me learn the value of innovation and the importance of working toward common goals.  I believe that it is possible to both 'Do Well and Do Good' so our entire community can grow together.
When you are out and about, you may find me running on the Riverlife path, hiking the local trails, or cross country skiing in the woods.  Surely, my wife Kristie, and I will bump into you at one of the local restaurants.  We are excited to call Wausau home and are eager to get to know you.  In the meantime, I am only one phone or zoom call away.
Thank you for your warm welcome and here's to a great future that is built for generations to enjoy.
Warm Regards,

Tim Parker
President/CEO
More News
It is hard to turn in any direction in the greater Wausau area and not see something Caroline S. [...]
The Community Foundation of North Central Wisconsin welcomed a new board member beginning their first three-year term in April [...]
In 2002, Paul and Patty David were searching for a way to create a memorial for their son, Thomas. [...]