The Legacy Society recognizes donors who plan to form, or add to, a permanent fund through executed planned giving vehicles such as a will or life insurance policy. In planning for the future, donors can be assured their legacy will be reflected according to their wishes. Naming the Community Foundation as the beneficiary can also provide substantial estate tax savings. If you have included the Community Foundation in your estate plans and would like to be included in our Legacy Society, please contact our office. Including a charitable bequest in your will is a simple way to make a lasting gift to your community. When you make this gift through your Community Foundation, we establish a special fund that benefits the community forever and becomes your personal legacy of giving.
---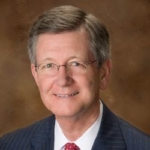 "What does living in this community mean to you? It means a lot to me. This is where I got my first job out of law school, where I met my wife, Ann, got married, and raised our four children. This is where Ann and I have been able to engage in challenging and interesting work, make life-long friendships, enjoy biking, skiing, hunting and golfing, and become enriched by the visual and performing arts.
This community we call home didn't just happen. People who came before us realized the importance of giving back, of reinvesting in our community to help it prosper, give its people opportunity, and preserve our area's beauty. Participating in the Legacy Society is one way we can give back and ensure that this community provides enjoyment and enrichment for generations to come."
Mark J. Bradley
Shareholder
Ruder Ware Law Firm
Sample Bequest Language
This language is provided as a sample only. It should be reviewed by your professional advisor.
The following list of visionary individuals have demonstrated their leadership by notifying us of their plans to leave a lasting gift to their community through their estate plans
Legacy Society
The following list of visionary individuals have demonstrated their leadership by notifying us of their plans to leave a lasting gift to their community through their estate plans.
Mary Bethke
Mark & Ann Bradley
Patrick & Karrye Bradley
Kerry & Cheryl Brimmer
James Collison & Annaluna Karkar
Arzelee Drown
Robert & Joann Elbe
D.J. & Mary Clare Freeman
Don & Karen Grade
Mark & Debra Hadley
David & Gwen Hegy
Donald & Sally Hostvedt
Randall Jefferson & Anne Sivright Jefferson
Keith Kocourek
Robert Kumbera
Bill & Kathy LaBrake
Thomas & Barbara Lattimer
David R. & Darlene A. Lee
Carol Luedtke Grund
Sondra & George Juetten
Tom & Jan Mack
David & Carol Marquardt
Dennis & Bonnie Mealy
Daniel & Linda Meschefske
Larry & Ann Meyer
John & Susanne Michler Trust
Michael & Mary Moen
Todd & Kerri Olson
Duane & Joy Patterson
Frederick & Linda Prehn
Robert & Gerri Quirt
Anthony J. & Geraldine M. Rein
Glorian Reinke
Tom & Phyllis Riiser
Grace B. Schneider Family
Ron Schubert
Ronald & Mary Ann Schubert Fund
Marvin & Ruth (Rudie) Schuette
Eileen Goggins Schultz
Duane & Patricia Smith
Ivan & Anna Stanko
Chet Suski
Bill & Jean Tehan
Michael & Elizabeth Tillisch
Rose Marie Towle
Gary L. Treu
Patrick & Jeanne Wallschlaeger
G. Lane & Linda Ware
Brian & Patricia Wellmon Trust
Jane Wiley
Legacy Hall of Fame
The following individuals have left a bequest to the Community Foundation.
Katherine H. Anderson
Frank Bachhuber
Carol R. Becker
Folke & Jean Becker
Raymond A. & Amella P. Beilke
Norman Bradfish
Elizabeth Bradley
Leon & Alma Burger
Dexter & Ruth Cihla
Jerome R. Czerwinski
Mark H. Dreyer
Edward & Lois Drott
Betty Thom Foster
George L. Geisler
David Jahnke
EO & Laverne Johnson
Bart & Patricia Kellnhauser
Emma C. Larson
Paul W. Luebke
James & Susan Lundberg
Caroline S. Mark
Ewald Pagel
Orville & Geraldine Peterson
Edward Rahne
Jerome A. Scheibl
Clarion G. & Irene B. Sternberg
Lawrence & Jane Sternberg
Jerome Thiessen
John & Doris Ullrich
G. Lane Ware
Speak with your professional advisor or contact our office (715.845.9555) to learn how you can include a legacy gift to your community in your estate plans. We would be honored to add your name to our Legacy Society.