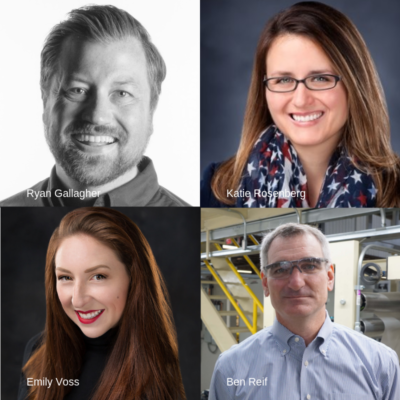 The Community Foundation of North Central Wisconsin is governed by a 15-member volunteer board, elected to strategically invest the gifts of our donors, direct disbursements of the Foundation's assets, and plan for the community's long-term good. Serving as chairman of the board is Amy Plier, Wausau Container. She is joined on the Foundation's executive committee by Chris Pfender, Intercity State Bank, vice chairman; Mary Jo Johnson, EO Johnson, secretary; and Peter Gaffaney, Baird, treasurer.
Newly elected board members include Katie Rosenberg, Footlocker.com/Eastbay; Ryan Gallagher, Rocket Industrial; Benjamin Reif, Wausau Coated Products; and Emily Voss, Voss Studios. These individuals will serve a 3-year term and join current board members: Lisa Dodson, William Hsu, Melissa Kampmann, Cari Logemann, Steve Schmidt, Ann Werth, and Lori Weyers. Completing their term on the board of directors are Dennis DeLoye, Geoffrey Huys, Jim Kemerling, and Randy Verhasselt.
The Community Foundation of North Central Wisconsin is a nonprofit community corporation, created by and for the people of north central Wisconsin, and exists to enhance the quality of north central Wisconsin.